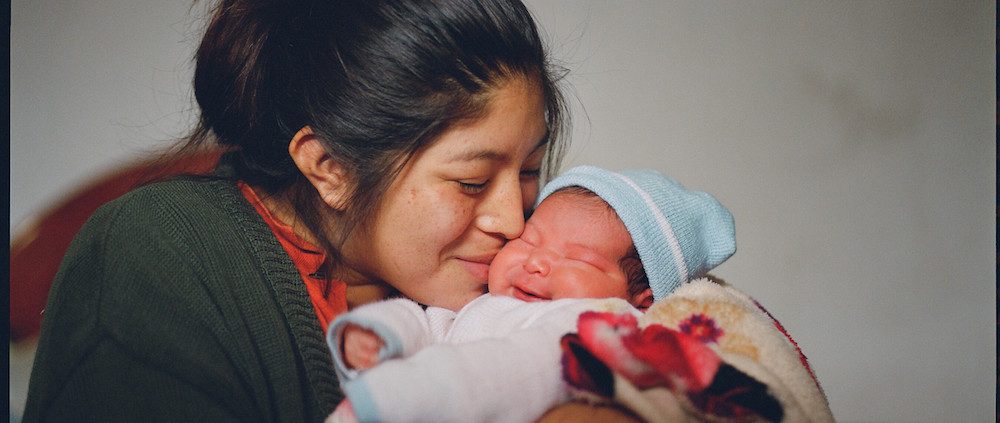 Universal Motherhood
Motherhood is universal: healthcare is not
The exhibition emphasizes the shocking statistics that in 2016, 30 million women gave birth without a skilled birth attendant¹ and 2.6 million mothers lost their newborn babies – that's 7,000 newborns every single day and 5 newborns every minute.²
The majority of these deaths occur in the world's poorest nations. But there are also huge inequalities within countries. Even when good quality healthcare is available in cities, only those who can afford to pay can access it. For poor people, especially those living in remote, rural areas, health coverage can be almost non-existent.
A child's birthplace should not determine whether they live or die.
The GSK Save the Children partnership
Save the Children and GSK are calling on all governments around the world to achieve Universal Health Coverage (UHC) by 2030. No woman should have to give birth without essential health services and no family should face financial hardship as a result.
'Seconds Pass' is a light installation by Aphra Shemza. The work reveals the fragility of young life, as the rhythmic pulsing of the lights is determined by data on birth and death rates of under-fives around the globe. Four children are born every second.5 One child dies every six seconds.5  80% of child deaths occur in sub-Saharan Africa and Southern Asia.2 Most deaths could have been prevented with proven, cost-effective interventions.2
About the Photographers
Diana Markosian is an Armenian-American photographer. She has received acclaim for her photo essays and is a nominee member of Magnum Photos. She visited Nepal, where she photographed 25-year-old Choti at the birth of her son, Irfan, at a maternity clinic in the Banke region. 44% of mothers in Nepal have to give birth without any medical help, and 35 children out of every 1,000 live births don't make it to their fifth birthday.3
Sian Davey is an award-winning British photographer with a background in Fine Art and Social Policy. She photographed Ellen, 37, who lives in London and gave birth to baby Alice after trying to conceive for nearly two years. Baby Alice wasn't breathing when she was born and had to be resuscitated by the medical team. In the UK neonatal mortality is 3 deaths per 1,000 live births.3
Carlota Guerrero is a Spanish photographer who broke through with her acclaimed set of images for Solange Knowles' 2016 album, A Seat at the Table. She visited Guatemala where she photographed 19-year-old Jennifer at the birth of her second child, a boy, Daniel. Doctors had to perform an episiotomy at the delivery, but in Guatemala, one-third of mothers have to give birth without medical help.3
Dana Popa is a Romanian born, London-based photo-artist, specializing in contemporary social issues, with an emphasis on human rights. She visited Bucharest in Romania, where she photographed Roxana at the birth of her first child, Sofia. Romania ranks first in the EU in terms of infant mortality4 where under-five mortality is 9 deaths per 1,000 live births.3
Bieke Depoorter is a Belgian photographer and member of Magnum Photos. Her projects focus on intimate situations in families and in people's homes. She travelled to the Bungoma area of Kenya, where she photographed Nelly Chematui at the birth of her third child, a girl, who she named Bieke. One-third of all mothers have to give birth without medical help in Kenya3 and approximately 34,000 children each year die before they are a month old.3
¹WHO 2016
²UNICEF 2017
3UNICEF 2016
4WHO, UNICEF, UNFPA, World Bank Group, and the United Nations Population Division, 2015
5World Bank, 2014